Winner announced for Global Corporate Sustainability Awards (GCSA) Outstanding Professional has its winners for 2021 announced!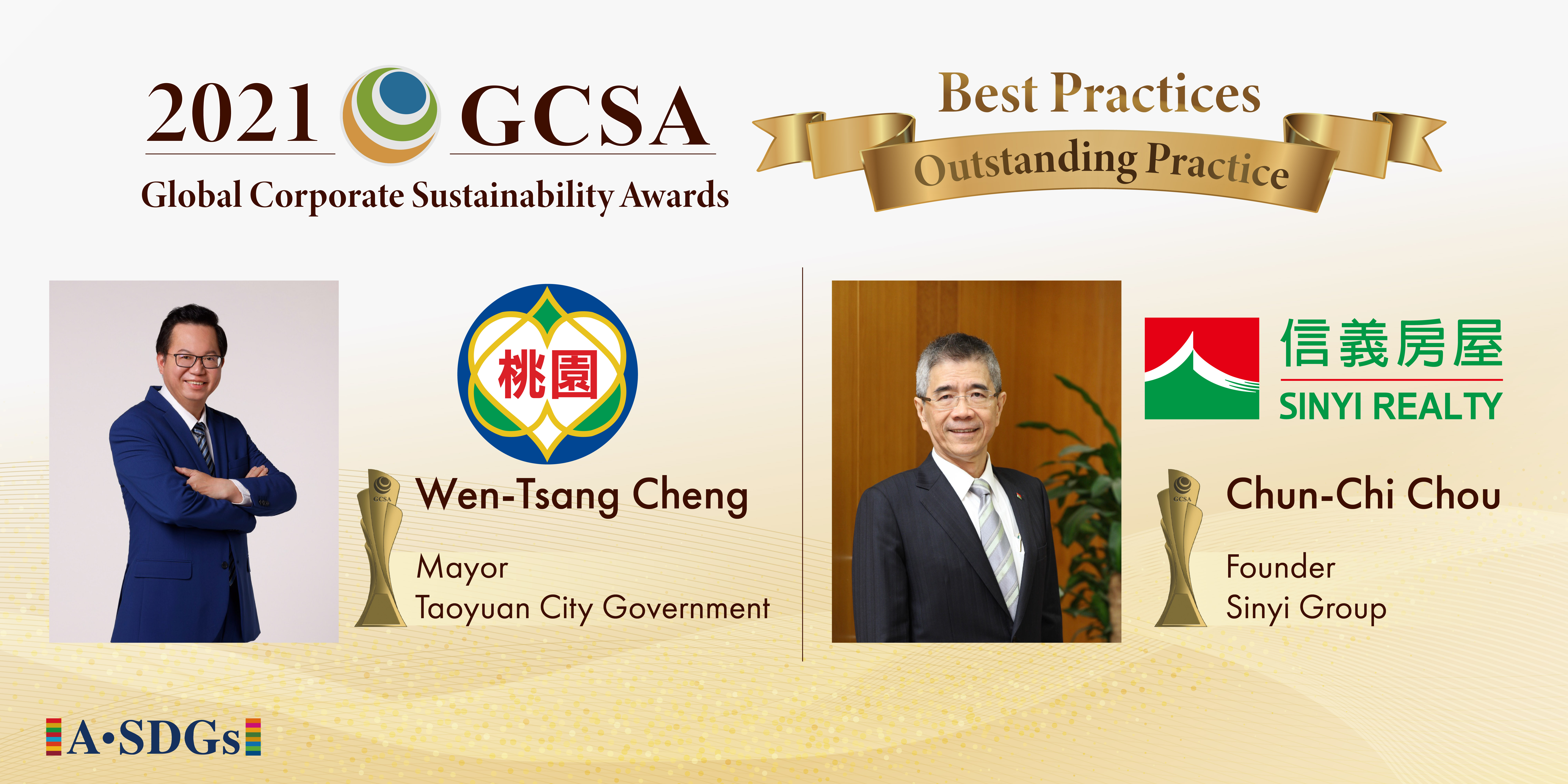 The award recognizes individuals who demonstrated outstanding contribution towards sustainable developments, it is graded based on 5 criteria: Reputation, Overall Contribution, Social Impacts, Corporate Image, and Social Achievements, each of those criteria contribute accounts for 20% of overall performance.
Mr. Wen-Tsang Cheng
Mayor, Taoyuan City Government
Mr. Wen-Tsang Cheng is the first mayor after Taoyuan City was upgraded to Special Municipality. To expedite Taoyuan's infrastructure and economic development while maintaining an urban environment of high quality. The mayor actively promoted sustainable policies to create a low-carbon, green, sustainable and smart city. The mayor has been consolidating the willpower and the resources of each bureau within the city government and facilitating the foundation of "Low-Carbon Green City Development Promotion Team" according to "Taoyuan City Low-Carbon Green City Development Self-Governance Ordinance."
Through consultation with experts to refine sustainability-related policies, Taoyuan City Government promotes renewable energy, recycled materials, eco-logistics, and low-carbon vehicles with circular economy and sustainability as its core value while developing its economy.
In an effort to be aligned with international trends, Taoyuan County worked towards 3 Sustainable Development Goals (SDGs) including Health and Friendly, Safety and Livability, Smart and Resilience along with 10 strategic policies. Building on SDGs, the city government aims to create a healthy and sustainable environment for its residents.
Mr. Chun-Chi Chou
Founder, Sinyi Group
Mr. Chou pioneered in several industry practices to reform the image of real estate industry in Taiwan, his proactively spent 16 years laying the foundation for community capacity building. Mr. Chou is recognized through his innovation, visionary management, and his belief in business ethics as the core value of Sinyi.
Sinyi is people-oriented, with a vision of "Committing to Corporate Social Responsibility, Providing World-Class Services" to the global market. Under Mr. Chou's leadership, Sinyi has created shareholders value by showing a growing trend on operating revenue and was ranked among Top 5% in the listed group of Corporate Governance Evaluation by TWSE for 7 consecutive years.
As the Junzi Leader and a recipient of National Quality Award, Mr. Chou is viewed as an impactful advocator for industrial innovation, business ethics, and CSR. In 2021, he further led Sinyi into joining the Net Zero x 2030/2050 Initiative while celebrating Sinyi's 40th anniversary, he is committed to leading Sinyi people toward to a more sustainable and resilient future.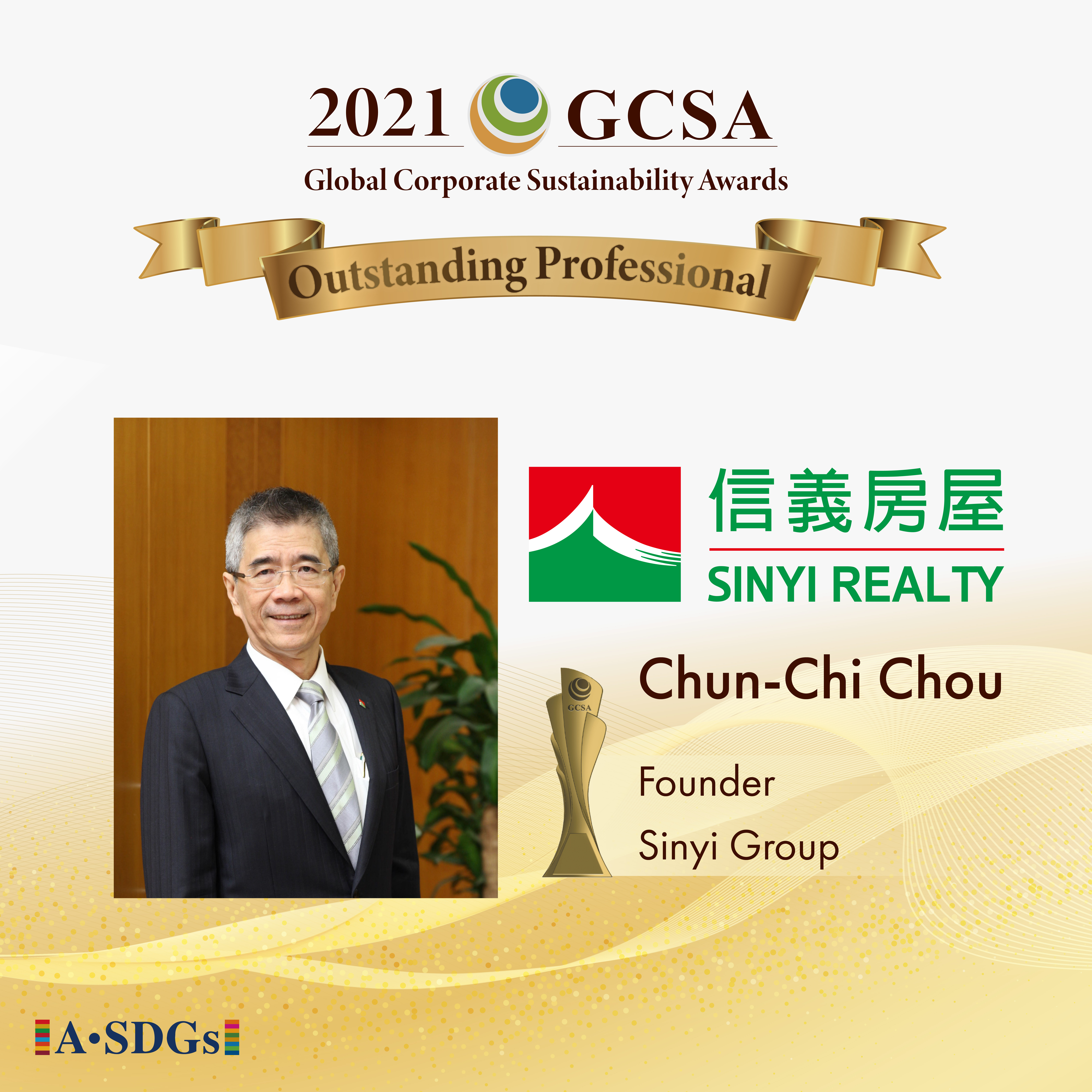 The panel judges for Outstanding Professional award in 2021 are (Listed in accordance with alphabetical orders of panel judges' surname):
Rajesh Chhabara (Managing Director, CSRWorks International)
Edoardo Gai (Managing Director, ESG Benchmarking, S&P Global)
Alan McGill (Global Sustainability, Assurance Leader, PwC UK)
Shu-Hung Shen PhD. (Chairman, Taiwan Air Quality Health & Safety Association)
Geert-Jan van der Zanden (Managing Director, Xynteo)