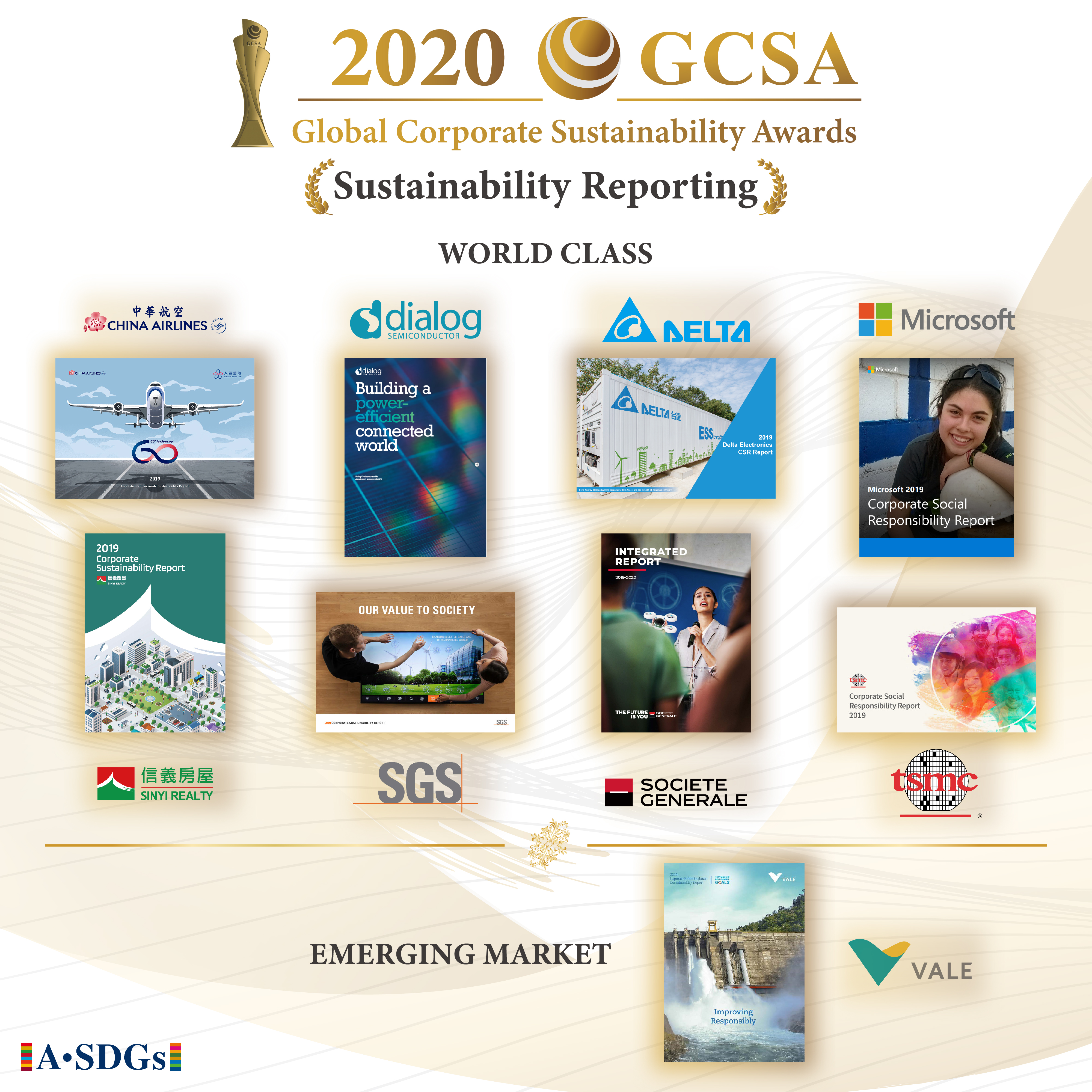 Global Corporate Sustainability Award (GCSA) Sustainability Reporting has its winners for 2020 announced. Sustainability Reporting Award recognizes companies and organizations that are transparent in disclosure of ESG information. The award is being assessed on the sustainability report and website management, both of which contribute 50% to the overall assessment. In 2020, a total of 34 participants entered GCSA Sustainability Reporting.
GCSA operator Taiwan Institute for Sustainable Energy (TAISE) operates a series of sustainability reporting review training program throughout the year, the participants from different fields become qualified review judges at the end of the program. Those review judges conduct preliminary round of review on all sustainability reports entered before final assessment by panel judges and decision by Chairman. The panel judges for Sustainability Reporting award in 2020 are (Listed in accordance with alphabetical orders of panel judges' surname):
Prof. Louis Chen

(Professor, Graduate Institute of Intellectual Property National Taipei University of Technology)

Prof. Yu-Shan Chen

(Chair and Professor, Department of Business Administration, National Taipei University)

Christine Chiang

(Asia-Pacific Lead, WW Product Environmental Compliance, Hewlett Packard Enterprise Ltd.)

Distinguished Prof. Allen H. Hu

(Distinguished Professor, Institute of Environmental Engineering and Management National Taipei University of Technology)

Prof. Cheng-Li Huang

(Professor, Department of Accounting, Tamkang University)

Prof. Tsai Chi Kuo

(Professor, Department of Industrial Management, National Taiwan University of Science and Technology)

Assoc. Prof. Yung-Shuen Shen

(Secretary General, Taiwan Corporate Sustainability Award)

Professor Shong-Iee Su

(Professor, Department of Business Administration Soochow University)

Prof. Shin-Cheng Yeh

(Professor, Graduate Institute of Environmental Education National Taiwan Normal University)
GCSA Sustainability Reporting is awarded to 9 winners from 6 different countries in 2020, 8 of the winners achieved GCSA in World Class and 1 awarded GCSA Sustainability Reporting in the Emerging Market category. The highlights for the award winners are listed as below.
World Class
China Airlines Ltd 
As an airline carrier, China Airlines has demonstrated a clear CSR strategy and objectives are linked to its operation model. The report demonstrated a clear and rigorous communication strategy with its stakeholders while giving readers a clear picture of the airlines' future directions and goals. The CSR webpage is interactive through creative features, this includes carbon footprint disclosure allowing the visitors to search for carbon emission expected from flying to their planned destination. This feature is an initiative the airline has taken in response to Carbon Offsetting and Reduction Scheme for International Aviation (CORSIA). 
Delta Electronics, Inc. 
Delta was able to quickly set up an epidemic prevention command center and formulate an epidemic response plan in response to the risk of the COVID-19 epidemic, that its factories worldwide have common principles to follow to ensure uninterrupted corporate operations and employee health. To accelerate the low-carbon transformation of transportation and response to the goal of keeping global warming below 2°C, Delta joined the international EV100 initiative for electric vehicles in 2018 as the first electric-vehicle energy infrastructure provider. Furthermore, a clear information about the relationship between remuneration and sustainability efficacy, performance and certification processes is being outlined in the report. 
Dialog Semiconductor GmbH 
Dialog Semiconductor has integrated non-financial information relevant to ESG into its annual report. The detailed governance and financial statements have effectively increased comprehension while placed more sense of responsibility to the stakeholders. Dialog reports data in both absolute numbers and normalized format. As the title "Building a Power-Efficient Connected World", the entire report is based on product performance. The report clearly disclosed those in charge of managing sustainability issues and the management approaches taken. 
Microsoft Corporation 
Established in 1989, Microsoft has dedicated towards innovation. Microsoft requires its global manufacturing partners and vendors to follow environmental practices with respect to their facilities, operations, and the products manufactured. Microsoft's sustainability report demonstrates strong governance, management, and leaderships on material issues. Sustainability practices are further displayed on its corporate website linking strongly to sustainability development goals (SDGs) giving human-centered impression through multimedia features. 
SGS S.A.
As a multinational company and the world's leading company providing services in testing, inspection, and certification specialized business solutions that improve quality, safety, productivity and reduce risk. The company elaborates its results of the consensus reached through stakeholder consultations and how the results contribute to changes in the organization's establishment of strategies. It is noted in the report "In 2019, SGS raised internal awareness on sustainability issues through a series of employee engagement initiatives", which is essential to sustainability culture of a company. 
Sinyi Realty 
As a winner of GCSA Sustainability Reporting Award for 3 consecutive years, Sinyi Realty presented an attractive, readable, and creative sustainability report and website giving a long-lasting impression. From a multimedia applications perspective, the company is proactive in responding to news allegations through an interactive webpage. The company has also taken the initiative and leadership to establish the link between Board Member Compensation and Sustainability Performance. 
Societe Generale
A European leader in financial services for over 150 years, Societe Generale builds on its purpose and strategy to contribute shaping the world of tomorrow, creating financial and extra-financial value with an ambitious CSR objective. With responsibility at the heart of its value creation model, Societe Generale has set itself the challenge of consistency, in the way it operates and develop its activities: CSR is therefore a guiding principle in its strategic plan, governance, risk management, and capacity to innovate. This integrated approach, encompassing reporting and transparency, is part of a progress path to support Societe Generale's purpose: "Building together, with our clients, a better and sustainable future through responsible and innovative financial solutions."
Taiwan Semiconductor Manufacturing Company 
Being the first semiconductor company worldwide to join RE100 in 2020, TSMC has applied solid frameworks and managing tools such as Corporate Social Responsibility Matrix for sustainability practices. The report has demonstrated strong stakeholder engagement through technical frameworks such as TCFD while outlined a comprehensive strategy map for the value chain which closely links its business operation. The communication through multimedia is lively and creative. 

Emerging Market
PT Vale Indonesia Tbk 
The Indonesian mining company gives readers a clear picture of how the company integrates ESG into its daily business. It shows that the company successfully implements the focus of safe, people, and recovery into its business operation. The report features the company's respect to the local cultures and species as well as proving training to SMEs in the empowerment areas for supporting independent rural areas development in 10 regions. The website design for displaying its sustainability is beautiful, simple, and to-the-point.