Global Corporate Sustainability Awards (GCSA) Best Practice Award has winners of 2020 confirmed in World Class and Emerging Market category. Overall, a total of 11 practices being awarded to 10 companies/participants from 5 different countries. The participants are diverse in industry with winners from financial services, manufacturing, retail, hospital, service companies, and government. The award is being evaluated by 11 panel judges from 9 different countries.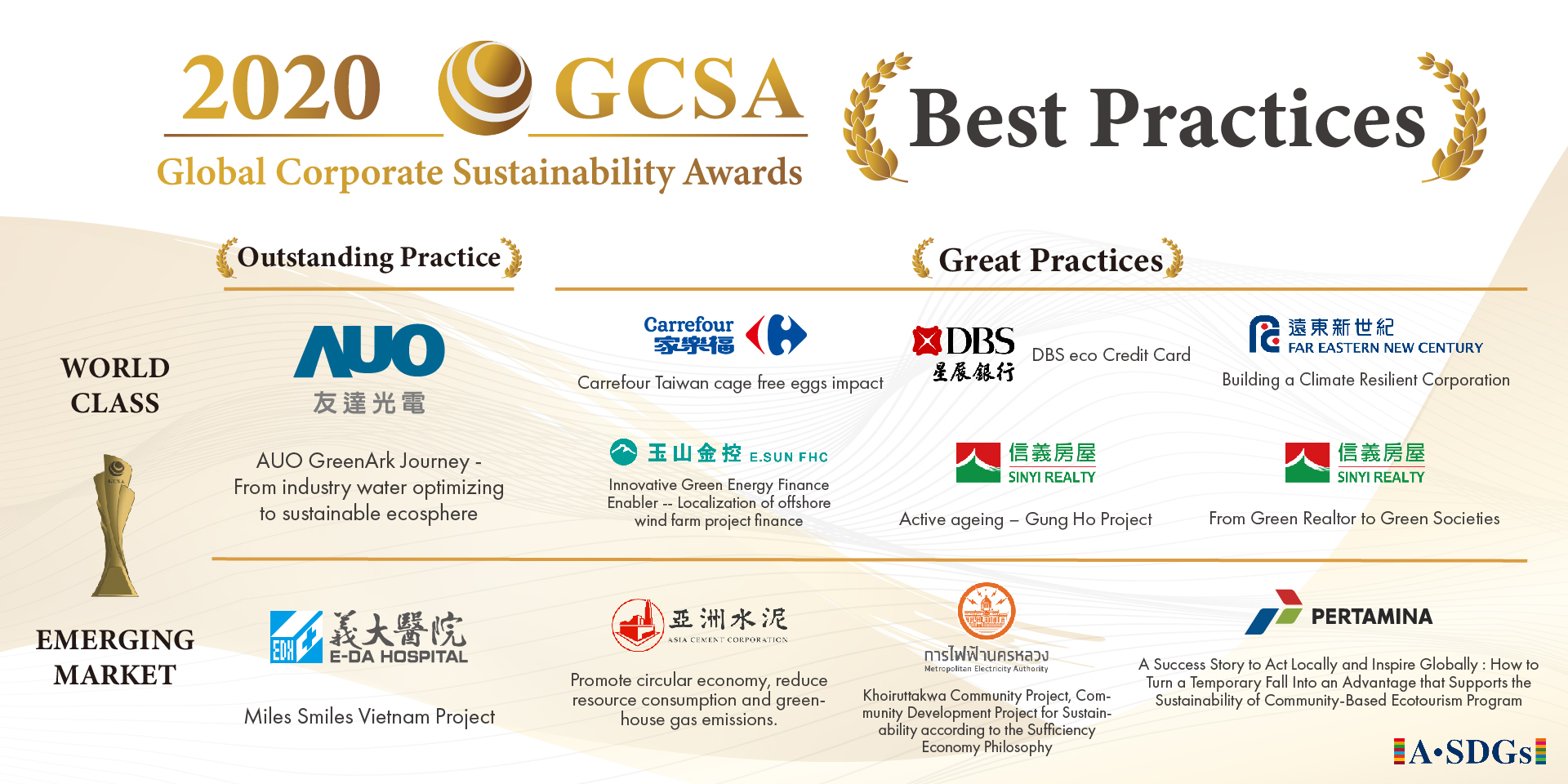 World Class
In the World Class category, Outstanding Practice (for 1st place overall) is awarded to AU Optronics (AUO) Corporation for the "AUO GreenArk Journey - From industry water optimizing to sustainable ecosphere" project. AUO has devoted into optimization of water sources over the last 12 years and marked a reduction of 44% in water consumption. AUO became the only company in Taiwan to achieve the goal of zero wastewater discharge in 2015. AUO's U-Fresh Technology company provides solutions for comprehensive output of water treatment and zero discharge of wastewater. AUO is also committed to educating water sustainability to the public with approval from Taiwan's Environmental Protection Administration.
Great Practice was awarded to 6 entries listed below:
Carrefour Taiwan cage free eggs impact (

Carrefour Taiwan

)

DBS eco Credit Card (

DBS Taiwan

)

Innovative Green Energy Finance Enabler -- Localization of offshore wind farm project finance (

E.SUN Financial Holding Co.

)

Building a Climate Resilient Corporation (

Far Eastern New Century Corporation

)

Active ageing – Gung Ho Project (

Sinyi Realty Inc.

)

From Green Realtor to Green Societies (

Sinyi Realty Inc.

)
The panel judges for Best Practice (World Class) awards are (Listed in accordance with alphabetical orders of panel judges' surname):
Dr. Naoki Adachi

(CEO, Response Ability, Inc.)

Prof. Jiří Jaromír KLEMEŠ

(Head of Center of Excellence, Faculty of Mechanical Engineering, Brno University of Technology, Czech Republic)

Prof. Tsai-Chi Kuo

(Professor, Department of Industrial Management, National Taiwan University of Science and Technology, Taiwan)

Prof. Juniati Gunawan

(Professor, Trisakti University, Indonesia)

Martin Townsend

(Global Head of Sustainability and Circular Economy, BSI Group)

Herbert Yung

(Director, Risk Advisory Deloitte China)
Emerging Market
In the Emerging Market category, Outstanding Practice (for 1st place overall) is awarded to E-DA Hospital (E-DA) based in Taiwan for the "Miles Smiles Vietnam Project. Miles Smiles Vietnam Project began in 2013 when a pilot mission team was sent to Vietnam and since then became a biannual medical mission. The project contained 3 components: education-based microsurgery mission, lectures, and cleft lips and/or cleft palates (CL/P) surgery mission with the goal to build local surgeons' skills in microsurgery, reduce patients with CL/P in Vietnam, and provide our team with hands-on experience on the global health field. E-DA partnered with Operation Smile (OS) Vietnam and local partners to execute the project. The project was designed to expand the professional skills of local surgeons through the "train-the-trainer" approach through high quality education which includes hands-on training and lectures, for local surgeons to excel and self-sustain in microsurgeries, reducing the inequality in healthcare service delivery to the community, and substantially increase the number of young surgeons who have relevant skills. E-DA further committed to providing the financial support for the delivery of surgery and other costs that arise for patients with low income. The change in life of patients and their and their families through surgery is evident from physical challenges, and social stigma attached to their condition.
Great Practice was awarded to 3 entries listed below:
Promote circular economy, reduce resource consumption and greenhouse gas emissions (

Asia Cement Corporation

)

Khoiruttakwa Community Project, Community Development Project for Sustainability according to the Sufficiency Economy Philosophy (

Metropolitan Electricity Authority, Thailand

)

A Success Story to Act Locally and Inspire Globally: How to Turn a Temporary Fall Into an Advantage that Supports the Sustainability of Community-Based Ecotourism Program (

PT Pertamina Hulu Energ

i)
In 2020, the panel judges for Best Practice (Emerging Market) awards are (Listed in accordance with alphabetical orders of panel judges' surname):
Dr. Michel Delorme

(Dean, Faculty of Management, Laurentian University, Canada)

Donald Eubank

(Principal and Co-Founder, Read the Air)

Dr. Hyunook Kim

(Professor, Department of Environmental Engineering, University of Seoul, South Korea)

Associate Prof. Yung-Shuen Shen

(Dean, Office of Student Affairs, The Center of Holistic Education, Mackay Medical College, Taiwan)

Keiichi Ushijima

(Principal (Japan Leader), Climate Change and Sustainability Service, Ernst & Young Japan)