The Global Corporate Sustainability Awards (GCSA) Outstanding Professional has its winners for 2020 announced. The winners are awarded to John T. Yu (Group Chairman, CTCI Group) and Erdal Elver (President & CEO, Siemens Taiwan). The award is graded based on 5 criteria: Reputation, Overall Contribution, Social Impacts, Corporate Image, and Social Achievements. All of those criteria contribute equally to the overall evaluation. The panel judges for Outstanding Professional award in 2020 are (Listed in accordance with alphabetical orders of panel judges' surname):
Dr. Yeong-Ren Chen (Associated Professor and Chair, Department of Health and Welfare, University of Taipei)

Rajesh Chhabara (Managing Director, CSRWorks International)

Edoardo Gai (Managing Director, ESG Benchmarking, S&P Global)

Brian Ho (Partner, Climate Change and Sustainability Services, EY Hong Kong)

Alan McGill (Global Sustainability, Assurance Leader, PwC UK)
John T. Yu,
Group Chairman, CTCI Group
John T. Yu, had an impressive track record of achievements achieving Down Jones Sustainability Index (DJSI), CDP, and CSR, within the business of CTCI Group, a renowned engineering service company based in Taiwan. The panel judges noted that the impact which Mr. Yu created links strongly to United Nations Sustainable Development Goals (UN SDGs). Mr. Yu also founded the CTCI Education Foundation (CTCI EF) to continuously focus on the cultivation of talents and broaden young students' international perspectives. CTCI EF helps Taiwanese, especially young people, walk into the international community.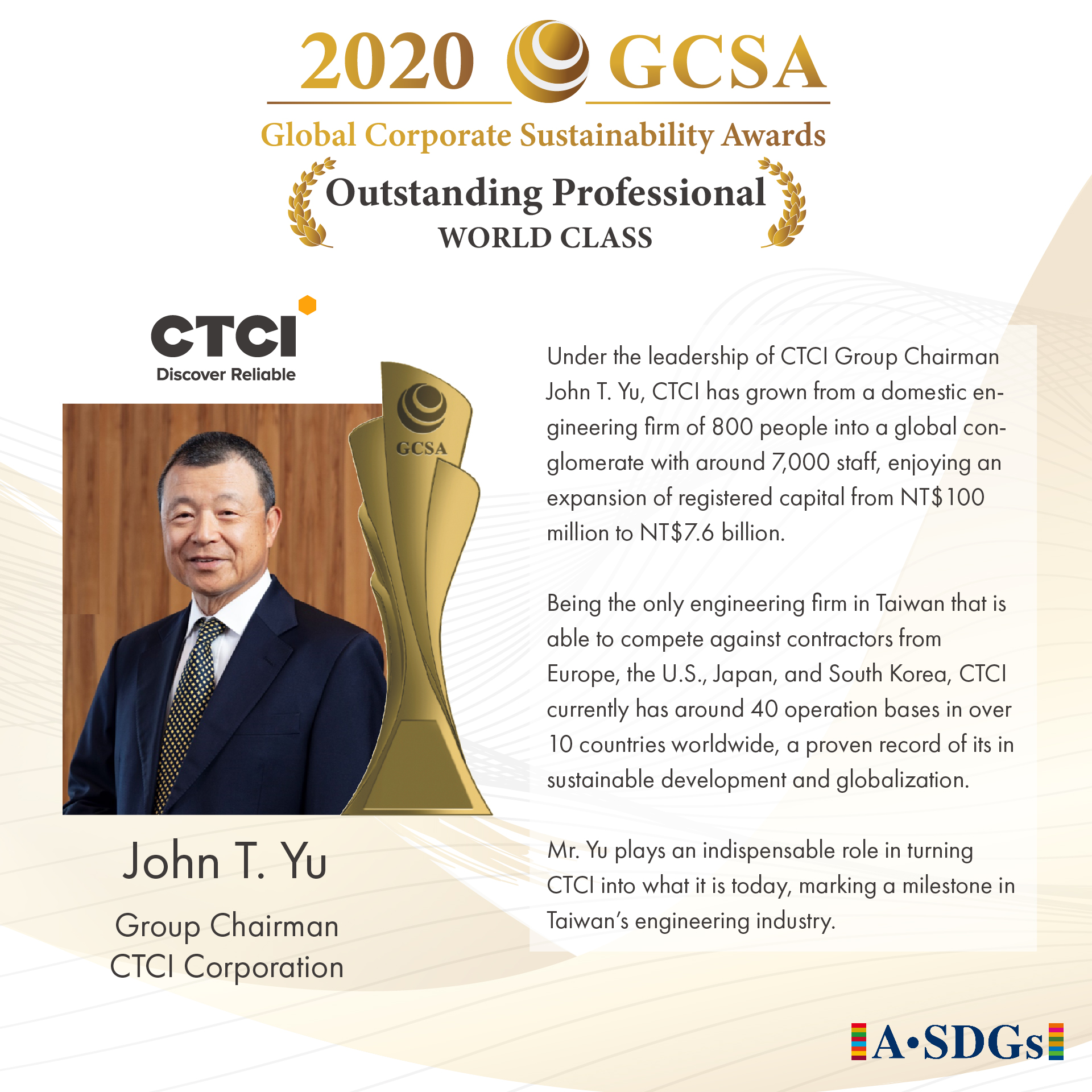 Erdal Elver
President & CEO, Siemens Taiwan
Erdal Elver has been serving as Siemens Taiwan President & CEO since 2012. Prior to his current role, he held various leadership positions within Siemens in Vietnam, China, and Germany. Mr. Elver is a strong leader in leading numerous activities to drive the agenda within his company, Siemens and within Taiwan. This includes offshore wind capacity and gas fired power stations have delivered considerable environmental benefits. He has further integrated social aspects of sustainability including future of manufacturing truck, getting this around Taiwan and looking at how this can impact local communities and how they engage with smart factories. Corporately, Mr Elver has driven corporate engagement, with the government, and other local businesses with awareness built around smart infrastructure and smart buildings including Taipei 101, one of the 10 tallest building in the world.