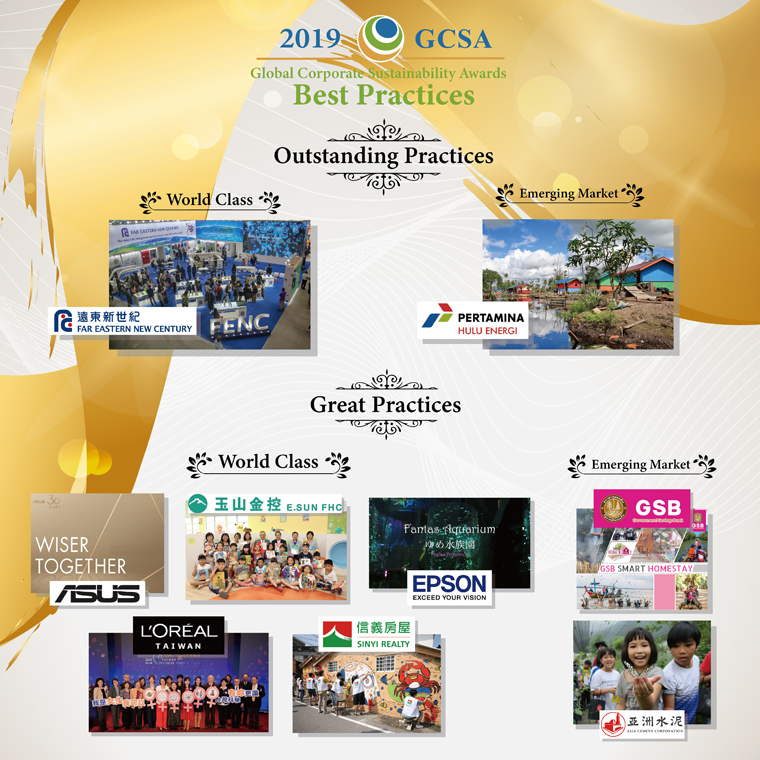 Award Categories
Rewards corporates that have the best practice in sustainable developments. Each corporate is eligible for submitting multiple entries to their respective practices. The number of awards is determined based on the number of participating corporates and their performance. The award winner is further divided into "Outstanding Practice" for the top ranked entry and "Great Practice" for the entries selected by the panel.
Fees and Payments
USD $1,230 or TWD $36,900
Eligibility
Participants must submit a nomination form as per Appendix IV. The projects can be supported with pictures, website links, or other forms of media.
Submission
Entries will be submitted through the official website.
a. Complete Application Form with the information listed below:
Project(s) name
Aim of the project(s)
The project objectives, initiation process, timing, and other details.
Participants' background
Other information that supports the project
Project management: Purpose, goals, and performance monitoring.
Evaluation: How the project link to the company's businesses, products, or services.
Sustainable developments: State the factors leading to and impacts on sustainable development.
Innovation: Is the project newly initiated or developed based on existing resources? What features making the project innovative, creative, and unique?
Results: What are some of the quantitative and (or) qualitative results since the project commencement? Are there any measurable feedbacks and evaluations?
b. Supporting documents should include but not limited to:
Certifications
Project related posters and photos
Multimedia presentation
Criteria
The judges will evaluate participants based on the criteria below:
Strategies and Objectives (25%)
Impacts, Effectiveness, and Continuity (40%)
Performance and Leadership (35%)
Additional notes:
The use of photos, diagrams, graphs, tables, flowcharts, and other forms of demonstrations are encouraged in all of the above sections. Words in the graphs and diagrams are not included in the word count requirements.
The descriptions should consider the qualitative and quantitative factors.
Please attach the supporting documents to the application where applicable.
Download: 2020 GCSA Guidelines